Why you should use Fiks.
WhatsApp Alerts.
Meld je aan voor WhatsApp Alerts, ga zitten, relax en krijg persoonlijk stages doorgestuurd via WhatsApp. Zo blijf je altijd op de hoogte van de laatste stages. Chill toch?
Personal assistance.
Studenten geven aan dat Fiks het enige stageplatform in Nederland is dat je persoonlijk helpt. Chat met ons over alles, we zijn er om te helpen.
Connect with companies.
Easily connect with the company you are interested in via WhatsApp and ask them anything about the vacancy. Or apply directly via our transparent platform.
How does it work?
Meld je aan. 
Geef je persoonlijke voorkeuren door in minder dan 3 minuten.
Krijg WhatsApp Alerts.
We sturen je direct relevante stages en je krijgt vanaf nu een appje als er een stage online komt die past bij jou.
Apply.
Solliciteer op de interessante stages en word aangenomen.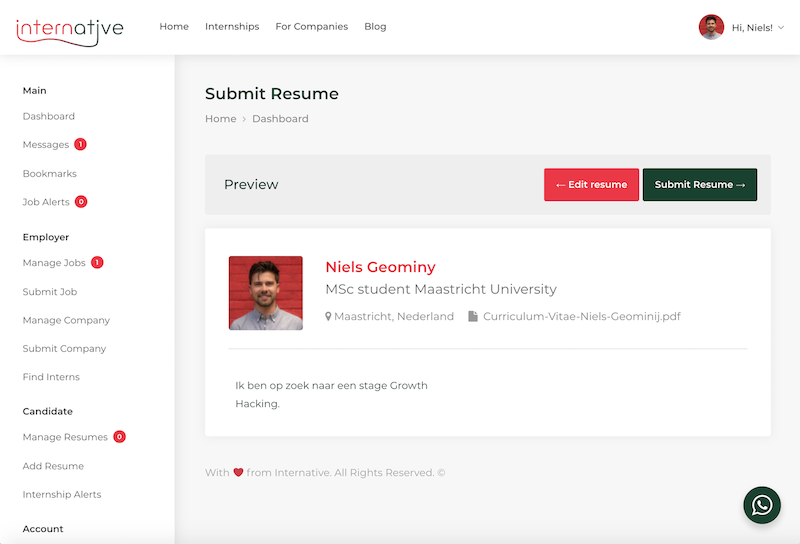 Or start searching yourself...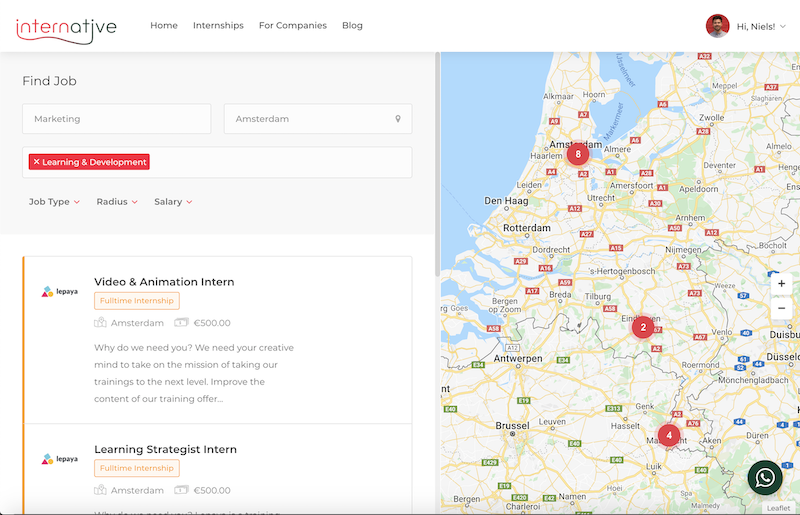 Search for internships
Use the filters to search for a job.
Get connected.
Connect met een bedrijf om een vraag te stellen.
Apply.
Solliciteer direct voor je stage en word aangenomen.
Get shit done.
Studenten met WhatsApp Alerts fiksen hun stage 3 keer zo snel.
What students say about us.
← swipe →
Fiks saved me by offering a wide range of internships on their platform. With the personal assistance of their team I was able to find an internship in these uncertain Covid-19 times.
Lots of great vacancies on one website. Plus the platform is transparent: you know at which company you are applying and you can get in touch with the company directly.
The platform is very clear and with the help of the filters it is easy to find an internship that fits my education.
Fiks is much more accessible because you can get in touch with the companies directly without a long application procedure. You can send messages via WhatsApp which means you don't have to wait long for a response.
The communication with the Fiks team was smooth, not too formal and straight to the point. Thanks to Fiks, I will start my thesis internship at a great company in September.
Through Fiks I easily got in touch with LIOF.
Within one week of looking for an internship on Fiks I was able to start at a company in my neighbourhood.
Fiks helped me to get directly in touch with the right person from Ask Phill - this resulted in a positive outcome.
During my conversation with co-founder Iron an internship that totally fits all my wishes was found quickly and resulted into me getting hired.
Fiks allows me to work at a great scaleup in Amsterdam.









For students, by students.
We help uni students find their internship. How much? Free for you my friend!
Accessible contact options, cool companies and personal help like you are talking to your mate, that's what makes our service unique.
Studenten met WhatsApp Alerts fiksen hun stage 3 keer zo snel.